06.04.2023
Circular Additive Manufacturing
The 3D printing market is expected to grow exponentially over the next several years, innovating the way we design and manufacture products with the potential to limit environmental impact. To make 3D printing more sustainable, Aquafil has partnered up with LEHVOSS Group, a global material compounder operating on high-performance materials for 3D printing under the brand name LUVOCOM® 3F, Drywise, a Thought3D product, and UltiMaker, the global leader in professional 3D printing. The aim of this partnership is to bring circular PA6 material to the market that can be recycled at the end of its useful life into new raw material.
This new circular PA6 material is composed of more than 85% of ECONYL® nylon filaments, provided by Aquafil, and the remaining part of other polyamides from renewable sources with almost no additives. This compound ensures the possibility to have 100% chemically recyclable filaments and products in the future. Aquafil's regeneration technology could also be used in the future to chemically recycle and repurpose 3D prints made with this circular material when they are discarded as waste at the end of their life.
An initial challenge was that the circular PA6 material had a very high moisture sensitivity because of the compound changes, to the point where it was no longer printable after just a couple of hours, even when dried and stored in a low-humidity chamber. Thought3D developed Drywise, an in-line filament drying architecture that helps remove the moisture from the section of filament that is being fed through the dryer to the printer as it is printing, allowing it to be reliably 3D printed every time and finally unlocking the circular economy to Additive Manufacturing. By reducing print failures due to material conditioning, Drywise inherently reduces material wastage, enabling a completely new material which boosts sustainability in 3D printing to a new level.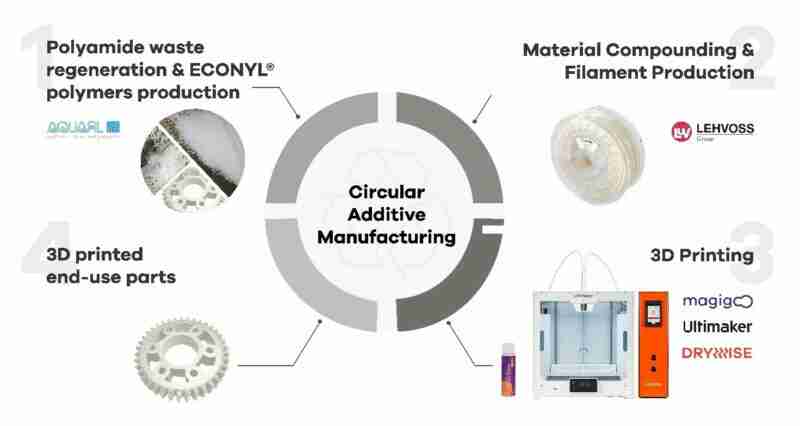 However, the big challenge ahead is the reverse logistics of end-of-life material. Therefore, LEHVOSS and Aquafil will start in 2023 with a pilot project in the DACH region (Germany, Austria, Switzerland) to put in place a take-back program whereby the used parts of the circular PA6 material can be collected at the end of their useful life and sent to Aquafil for the chemical regeneration.