01.12.2022
Slovenian Ambassador visited AquafilCRO / Posjet veleposlanika Republike Slovenije Društvu AquafilCRO
For the Croatian version scroll down./
Za vijesti na hrvatskom pomaknite prema dolje.
Oroslavje, 1 December 2022
The Ambassador of the Republic of Slovenia to the Republic of Croatia, Gašper Dovžan, visited AquafilCRO during his visit to Krapina-Zagorje County on December 1, 2022.
The ambassador was welcomed by the management of AquafilCRO, led by Saša Muminović and Angelo Cordella, together with Krapina-Zagorje county prefect Željko Kolar and mayor of city Oroslavje, Viktor Šimunić. During the tour of the factory, the management presented the global Aquafil Group to the ambassador, the operations of the AquafilCRO company and the ECONYL® Regeneration System for the production of regenerated nylon from waste.
"Slovenia is among the most important foreign trade partners of the Krapina-Zagorje County, but also of the whole of Croatia. Mutual trust is essential for a good business relationship, and that is exactly what we have with Slovenian businessmen. AquafilCRO is one of the most successful companies in this region, and I am glad that we had the opportunity to introduce our work to Ambassador Dovžan" said Saša Muminović. In addition to being the president of the AquafilCRO board, Muminović is also the president of the SLO CRO Business club, which promotes Croatian-Slovenian economic cooperation.
Apart from tour of the AquafilCRO, the delegation also visited the Business and Technology Incubator in Krapina, where the ambassador held a meeting with representatives of the Krapina-Zagorje County, where strategic projects for the development of the county were presented to him.
"In Krapina-Zagorje County, in recent years there has been great investments in infrastructure and there are very specific plans for further economic development. This leads to new jobs opening, which helps the population on both sides of the Sutla River to live well in their native place", said Slovenian Ambassador Dovžan.
He also emphasized the importance of the Krapina-Zagorje County for the Republic of Slovenia: "We share more than 100 kilometres of common border, and we have learned that in the European Union, borders connect more than they separate. I am sure that with the entry of Croatia into the Schengen area and the soon introduction of the euro, our cooperation will become even better." County prefect Kolar expressed his great satisfaction that the Slovenian delegation visited the Krapina-Zagorje County, especially because of the friendly relations between the two countries, as well as the great cooperation between Krapina-Zagorje County, municipalities and cities with Slovenian colleagues.
---
Hrvatski
Oroslavje, 1. prosinac 2022
Veleposlanik Republike Slovenije u Republici Hrvatskoj Gašper Dovžan posjetio je Društvo AquafilCRO prilikom svog posjeta Krapinsko-zagorskoj županiji 1. prosinca 2022. godine.
Veleposlanika je primila uprava AquafilCRO-a predvođena Sašom Muminovićem i Angelom Cordellom uz krapinsko-zagorskog župana Željka Kolara i oroslavskog gradonačelnika Viktora Šimunića. Prilikom obilaska pogona tvornice, rukovodstvo je veleposlaniku predstavilo globalnu grupu Aquafil, konkretan rad Društva AquafilCRO te ECONYL® sistem za regeneraciju poliamida iz otpada.
"Slovenija je među najvažnijim vanjskotrgovinskim partnerima Krapinsko-zagorske županije, ali i cijele Hrvatske. Za dobar poslovni odnos ključno je međusobno povjerenje, a upravo to imamo sa slovenskim gospodarstvenicima. AquafilCRO jedna je od najuspješnijih tvrtki u ovom kraju i drago mi je da smo imali priliku upoznati veleposlanika Dovžana s našim radom", istaknuo je Saša Muminović. Osim što je predsjednik uprave AquafilCRO-a, Muminović je i predsjednik SLO CRO poslovnog kluba koji promovira hrvatsko-slovensku gospodarsku suradnju.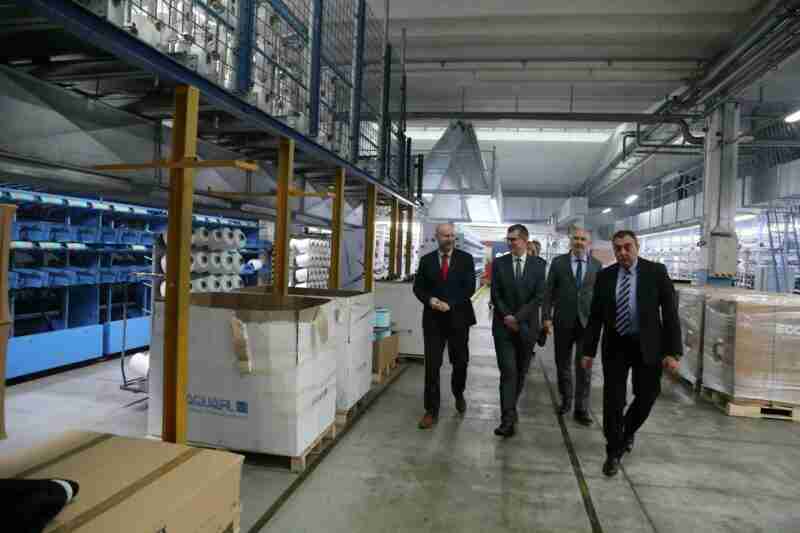 Osim pogona AquafilCRO-a, delegacija je posjetila i Poslovno-tehnološki inkubator u Krapini gdje je veleposlanik održao sastanak sa predstavnicima Krapinsko-zagorske županije na kojem su mu predstavljeni strateški projekti razvoja županije.
"Na području Krapinsko-zagorske županije posljednjih se godina mnogo uložilo u infrastrukturu i postoje vrlo konkretni planovi za daljnji gospodarski razvoj. To dovodi do otvaranja novih radnih mjesta uz pomoć kojih stanovništvo s obje strane rijeke Sutle u svojem rodnom kraju može kvalitetno živjeti", rekao je slovenski veleposlanik Dovžan. Također je istaknuo i važnost Krapinsko-zagorske županije za Republiku Sloveniju: "Dijelimo više od 100 kilometara zajedničke granice, a naučili smo da u Europskoj uniji granice povezuju više nego što razdvajaju. Siguran sam da će ulaskom Hrvatske u Schengenski prostor i skorim uvođenjem eura naša suradnja postati još bolja."
Župan Kolar istaknuo je veliko zadovoljstvo što je slovenska delegacija stigla u posjet Krapinsko-zagorskoj županiji, posebice zbog prijateljskih odnosa između dviju država, kao i sjajne suradnje između Krapinsko-zagorske županije, općina i gradova sa slovenskim kolegama.