06.04.2022
AquafilSLO partners with its neighbour company HELLA creating a circular system for sustainable heating
From January 2022, the company HELLA Saturnus Slovenija is heated with thermal energy from its neighbour company AquafilSLO
HELLA Saturnus Slovenija has concluded an agreement with its immediate neighbour, AquafilSLO d.o.o., on the supply of thermal energy. Since January 2022, our plant in Ljubljana has been heating the production premises of the neighbouring HELLA Saturnus Slovenia with excess thermal energy.
The new heating system will meet 100% of the thermal energy needs for heating the production premises of HELLA Saturnus Slovenija at the location of Letališka Cesta 17. In addition to sustainable effects on the environment, it also brings economic benefits to the partners involved.
Denis Jahić, General Manager of AquafilSLO, emphasizes: "AquafilSLO is guided by a vision of a sustainable future. To achieve this goal, we are open to partnerships even outside established value chains. That is why we carried out a project with HELLA Saturnus Slovenija, with the help of which the excess energy for us becomes a useful source of heat for the neighbouring company, implementing the circular economy model with industrial symbiosis."
Environmental and economic benefits of the project
Thermal energy in the form of hot water, used by HELLA Saturnus Slovenija to heat its production premises, is generated in our plant AquafilSLO as a by-product in the production process of ECONYL® yarn – a process where waste is a resource, a raw material to produce our products. HELLA Saturnus Slovenija needs 4,000 MWh of energy per year to heat production facilities at Letališka Cesta 17. 100% of these needs have been covered by AquafilSLO heat since January this year.
The agreement on the supply of surplus heat energy from AquafilSLO will bring a reduction in greenhouse gas emissions, which are estimated at around 1200 t CO2 eq kg per year. This is, by comparison, about as many emissions as about 700 cars a year, which cover 12,700 km.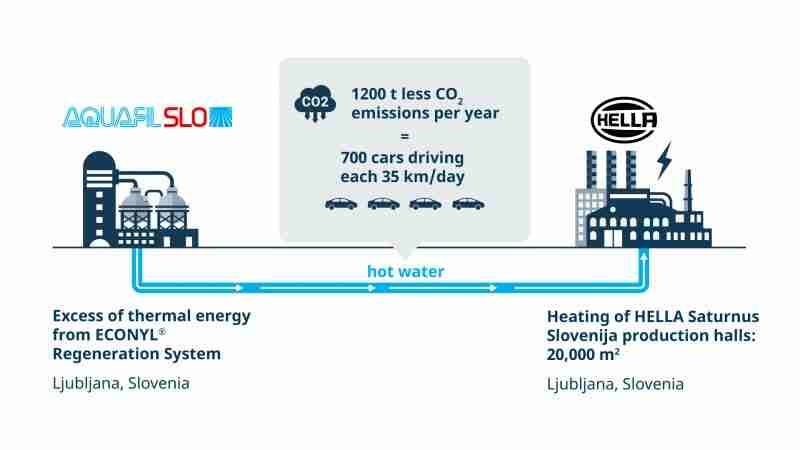 Sustainability is not a goal but a way of doing and thinking, which necessarily involves partnerships within the value chains and beyond. The partnership between AquafilSLO and HELLA is an example of how resources can be better invested by collaborating.