24.03.2023
3400 children engaged in education programs: one of the Healthy Seas Foundation Results in 2022
The Healthy Seas Foundation has recently shared its 2022 Activity Results, showing their big commitment in terms of the activities carried out for the care of our seas and planet. These numbers are meaningful results also in terms of new generations involved in the various didactic activities, to educate tomorrow's adults starting from today.
Also in 2022, thanks to the support of every volunteer and every supporting partner, Healthy Seas made a great impact for the protection of the seas in 20 countries around the globe. Here are their numbers:
activities in

6 regions

in

20 countries
132,500 kgs of fishing nets and other marine litter

were removed from the sea or prevented from ending up there, starting a circular journey

1,250 fishers and fish farms

were involved in their activities

3,400 children

engaged in education programs

350 divers

volunteered during

188 diving days

.
In May 2021, Healthy Seas expanded to the USA and welcomed Ghost Diving USA to its diving partners. Their cleanups kicked off in the USA starting in 2023, removing various gear from the area surrounding their home base in California. In 2022 they welcomed Ghost Diving Hong Kong and Ghost Diving Korea as their partners. 
Since its foundation in 2013 at the behest of Aquafil, Star Sock, and the NGO Ghost Diving, Healthy Seas has achieved increasingly important results. Step by step, one actor involved at a time, the foundation is broadening its horizons and involving more and more entities in its mission.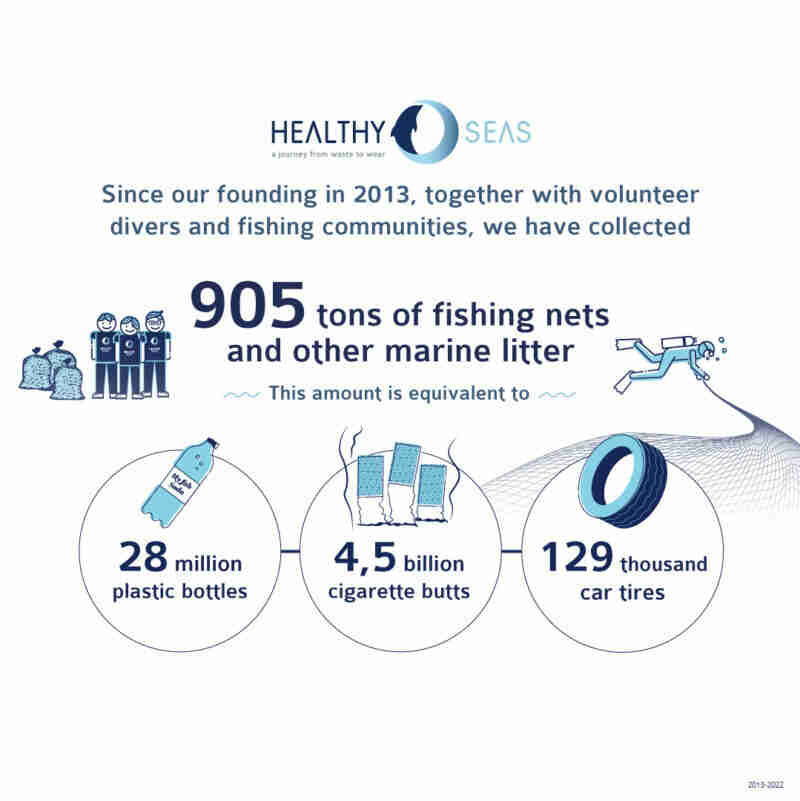 We, at Aquafil, are proud of this foundation and of the ever-better results achieved every year by all the people supporting and volunteering with Healthy Seas.