16.11.2022
Enabling a more sustainable future with Circular Additive Manufacturing
PRESS RELEASE
To make 3D printing more sustainable, LEHVOSS Group, a global material compounder operating on high-performance materials for 3D printing under the brand name LUVOCOM® 3F, Drywise a branded product of Thought3D, also known in 3D printing for its Magigoo branded products, and UltiMaker, the global leader in professional 3D printing have partnered up with Aquafil, an Italian pioneer of the circular economy. The aim of this partnership is to bring to the market a circular PA6 material, that is manufactured from ECONYL® and renewable resources and that can itself be recycled at the end of its useful life into new raw material.
This new circular material is composed for more than 85% of ECONYL® (regenerated polyamide 6), chemically recycled by Aquafil, and the remaining part of other polyamides from renewable sources with almost no additives. This compound ensures the possibility, to have 100% chemically recyclable filaments and products in the future.  This however means that water uptake in the filament cannot be tuned as it is usually done on the LUVOCOM 3F product range. The affinity to water of this polyamide is so great that the material is no longer printable after just a couple of hours, even when dried and stored in a low-humidity chamber (drybox). This poses a serious challenge for 3D printing, severely limiting its potential.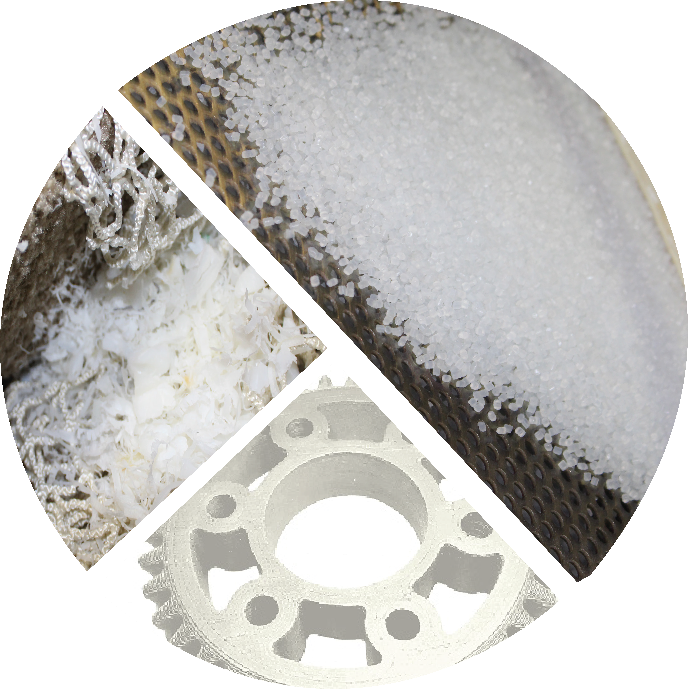 Aquafil provides the regenerated Polyamide 6 feedstock, ECONYL®, made from the chemical regeneration of a wide range of waste material, such as old carpets, fishing nets, etc. ECONYL® among other products, is also used to produce 3D filaments. The regeneration technology could be used also in the future to repurpose 3D prints printed with this material when these are discarded as waste at the end of their useful life.
Drywise is the only filament dryer on the market that enables this material. With its active in-line filament drying architecture, Drywise removes the moisture from the section of filament that is being fed through the dryer to the printer as it is printing. This ensures consistently dried filament is used to print the parts and hence eliminates time-dependent moisture uptake issues. The first and last layers will have the same material quality, regardless of the state in which the filament started. Drywise requires minimal user input and only requires a very short setup time to initiate printing.
As this material cannot receive additives for thermal stabilization, not submitting the filament to multiple drying cycles is essential to prevent material degradation as well, which makes the Drywise dryer a great fit as it only dries the material which will be used.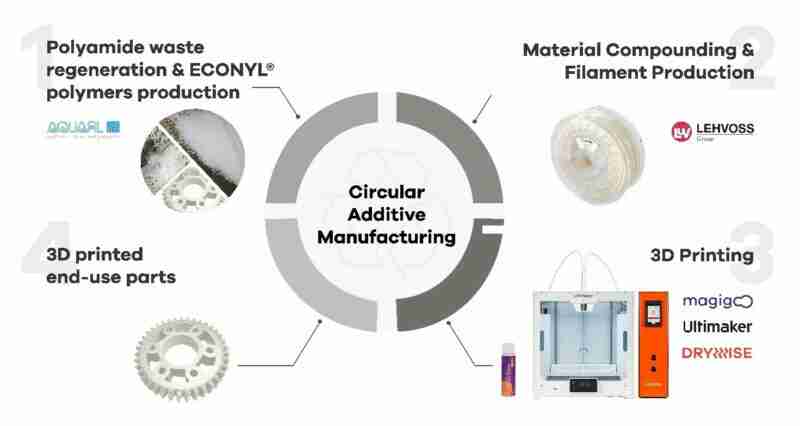 However, the big challenge ahead, if not the biggest, is the reverse logistics of end of life material.
Therefore, LEHVOSS will start with a pilot project in the DACH region (Germany, Austria, Switzerland) which will benefit from Aquafil's vast experience on the topic and on our distributors, to make sure to put in place a reverse logistic system whereby the used parts can be collected at the end of their useful life and sent to Aquafil for the chemical regeneration. The pilot will be set up during the year 2023.
This truly circular additive manufacturing solution is enabled thanks to the collaboration between LEHVOSS Group, Aquafil, Drywise, UltiMaker and Magigoo (Drywise and Magigoo are brands of Thought3D).
Testimonial from LEHVOSS: "The project for the circular PA6 material had hit a roadblock. The material was ready but due to its very high moisture sensitivity and the lack of technology enabling in-line drying, it had to be placed on hold. Drywise is the solution we were waiting to enable this material, allowing it to be reliably 3D printed every time, and finally unlocking the circular economy to Additive Manufacturing." Dr. Thiago Medeiros Araujo – LUVOCOM 3F Global Product Manager.
Testimonial from Aquafil: "For the first time ever we are able to create together with our partners a real circular filament that can meet the requirements of a very demanding market where sustainability and circularity are not only words but reality." Maria Giovanna Sandrini – Aquafil Chief Communication Officer
Testimonial from Thought3D: "As a company, we have always focused on creating solutions that solve real customer problems whilst respecting the environment. By reducing print failures due to material conditioning, like Magigoo, Drywise inherently reduces material wastage. We were therefore super excited to discover that our solution could enable a completely new material, which boosts sustainability in 3D printing to a new level. Now we look forward to launching this Circular Solution and working together to make it truly sustainable." Edward Borg – Thought3D Co-Founder and CPO
Testimonial from UltiMaker: "We are impressed at how well Drywise enables engineering parts with materials that are hygroscopic. Typically, these materials are difficult to print, require extensive drying prior to printing, and in some cases even degrade on the time scale that printing a part takes, so they have to be stored in anhydrous circumstances during printing. All this is a hassle. With Drywise, it has become as simple as loading the filament, and after the pre-heat pre-dry cycle, just start printing with a guaranteed well-conditioned filament. Therefore, it is no surprise that we recommend using the Drywise for any hygroscopic filament, such as polyamides / nylons. Drywise has been certified by UltiMaker as a third party hardware to work well with UltiMaker S-Line 3D printers."
About LEHVOSS Group:
With the 3D printing product lines LUVOSINT® and LUVOCOM® 3F the LEHVOSS Group offers innovative and customized polymers for 3D printing. They are dedicated to the most common technologies as powder bed fusion, fused filament fabrication (FFF), and fused granulate fabrication (FGF). The materials provide good processability and excellent material properties.
The LEHVOSS Group under the management of Lehmann&Voss&Co. is a group of companies in the chemicals sector that develops, produces, and markets chemical and mineral specialities for various industrial clients. Lehmann&Voss&Co., Hamburg, was founded in 1894 as a trading company. Since that time, the owner-run company has evolved into a powerful global organization – with long-standing connections to prominent, mainly foreign suppliers and with its own production sites in Europe, the USA, and Asia.
About Aquafil:
Founded in 1965, Aquafil is one of the main producers of nylon in Italy and worldwide. The Group is present in eight countries and in three different continents, with over 2,800 employees at 19 production sites located in Italy, Slovenia, United States, China, Croatia, UK, Thailand and Japan. Aquafil is a pioneer in the circular economy revolution also thanks to the ECONYL® Regeneration System, an innovative and sustainable process able to create new products from waste and give life to an endless cycle. For more information, visit www.aquafil.com.
About Thought3D:
Thought3D Ltd. is a Research and Development company based in Malta. Thought3D combines 3D printing, material chemistry, and engineering knowledge to create bespoke products for reliable additive manufacturing. It is a leader in creating solutions for material pre- and post-processing. In 2014, the company experienced the first layer adhesion problem firsthand and this led to the development of a novel smart adhesive that sticks when hot and releases when cold. In 2021, Thought3D released its new filament drying solution under the brand Drywise. Today, Thought3D produces and sells Magigoo adhesives, Magigoo Coater, and Drywise in-line dyer worldwide through a network of distributors and industry partners. Thought3D aims to enable FFF 3D printing to fulfill its promises, by providing a superior user experience and lowering the barrier to entry in 3D printing.
About UltiMaker:
UltiMaker is a global leader in the 3D printing industry with the mission to accelerate the adoption of additive manufacturing by providing a comprehensive desktop 3D printing ecosystem of hardware, software, and materials. UltiMaker combines two of the leading desktop 3D printing brands–Ultimaker and MakerBot–to advance the availability of accessible and easy-to-use 3D printing solutions for any application, while inspiring the industry to a future responsible and sustainable state.